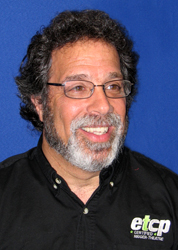 Bill "Uncle Bill" Sapsis: Bill Sapsis, President of Sapsis Rigging, Inc., began his entertainment industry rigging career in 1972.   His work on Broadway includes the original productions of A Chorus Line, The Runner Stumbles, The Little Me and Truckload. He was the Technical Director for a number of regional opera companies including the Tri-Cities Opera Company and the Augusta Opera Company.
Bill opened Sapsis Rigging in 1981 and has since grown the company into a multi-faceted installation/production/service company with clients on 5 continents.
Bill is an internationally recognized leader in the stage rigging industry. His commitment to safety related issues is well established and his articles on rigging and safety can be found in numerous entertainment industry publications while his lectures can be heard around the world. He has authored two books for the entertainment rigging industry: Heads and Tales (© 2007) and Entertainment Rigging for the 21st Century (© 2015)
Bill is a member of the Entertainment Technician Certification Program (ETCP) Council and Chair of the ETCP Rigging Subject Matter Experts. He holds a seat on the ESTA Technical Standards Committee that oversees the ANSI-accredited Technical Standards Program and is the Chair of the TSP's Rigging Working Group. Bill is also a member of the ESTA Foundation's Board of Directors and the Behind the Scenes committee. 
Bill is an ETCP Recognized Trainer.  He is a USITT Fellow and past member of the USITT Board of Directors.  He is a member of ABTT.  He is also a founding member of the Long Reach Long Riders, an industry based charity motorcycle group.  Bill was the 2010 recipient of the Eva Swan Award, ESTA's highest honor.  Bill produces the North American Theatre Engineering and Architecture Conference (NATEAC), a quadrennial event held in New York City.
In his civilian life Bill has three kids and a cat.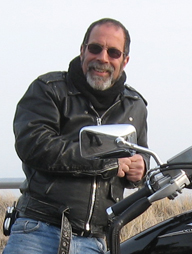 Michael Sapsis has been with Sapsis Rigging since the early 80's. During his tenure with SRI he has been head rigger for innumerable high profile projects around the world, including the original Seventh on Sale AIDS Benefits, Anthropordino at the Park Avenue Armory, the Crystal Ball at Mt. Sinai and special events in London, Hong Kong and Cheng Du, China. Prior to joining SRI Michael was the road manager for Judy Collins and the LD at the Savoy/Hudson Theatre in NYC. Michael holds an ETCP Certification in Theatrical rigging.
Any resemblance to his twin brother Bill is purely biological. email Michael


Jeff Prorokstarted at SRI as a shop assistant and now heads up our Shipping and Receiving Department. When we can pry him out of the warehouse, Jeff likes to golf but doesn't do it enough. He is an avid reader and a huge Philadelphia Phillies and Eagles fan. He enjoys movies and loves all types of music. Enthusiastically plays guitar and sings in a band every Friday, at his house. He has been living in the Philly area for 15 years and now lives in Manayunk with his girlfriend Dacia and their fish. email Jeff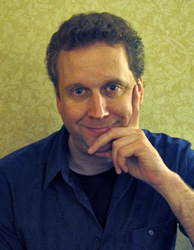 Chris Harris started working for Sapsis Rigging in 1991. Originally hired to oversee scenery construction, he is now the Lead Safety Inspector and a Rigging Installation Supervisor. Including the many domestic theaters he has done inspections, installations or renovations for he has also been involved in installations internationally, including Kingdom Schools in Riyadh, Saudi Arabia, Teatro Nacional Sucre in Quito, Ecuador and Teatro Villa Juana in Santo Domingo, Dominican Republic. In 2005 he became an ETCP Certified Rigger in Theater Rigging.
He attended the College Conservatory of Music at the University of Cincinnati ('87-'91) where he received a BFA in Theater Design and Production with an emphasis on Technical Direction. Before attending college, he was a trained dancer attending the New Jersey Ballet School and training with the Darvash Ballet Studio in New York City. He performed professionally with the New Jersey Ballet Co., Atlanta Ballet Co., Colorado Ballet Co. and Ballet de France.email Chris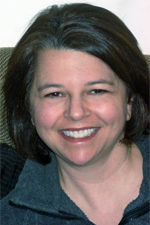 Lisa May has been the bookkeeper for Sapsis Rigging since 1994. Born and raised in Northern Ohio, she has enjoyed living in the Philadelphia area since moving here with her husband, Dan and son, Adam. Lisa received her Bachelor's Degree from The Ohio State University, and also worked in the mortgage business prior to coming to work for Sapsis.
When she's not juggling the numbers, Lisa can usually be found taking her pug, Cooper on walks and spending time with her husband, Dan, a singer songwriter. email Lisa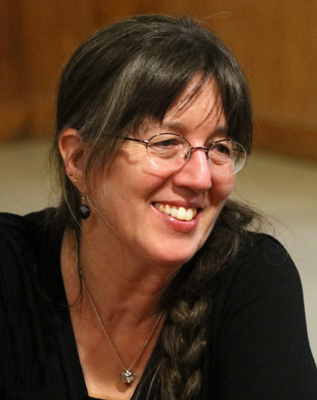 Sarah Gowan has been with SRI since 1984, when she was hired as a scenic artist before the ink had dried on her Temple University theater degree. She's worn many hats since, including paint charge, bookkeeper and office manager. Most recently she serves as the company webmaster/designer, graphic artist, materials editor and, because she has read more computer manuals than anyone else, default IT manager.
In her life outside of SRI she performs with three traditional dance ensembles, and plays for contra, square and English country dances - activities which mortify her two teenaged children and scare the cats. When asked how she manages to pack so much into her busy life she replies, "Easy. Don't clean." email Sarah